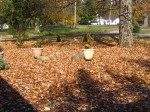 It's fall here in Northeast Ohio. I like this time of year, almost as much as spring. There is a feeling of preparation. We bring the hoses in, rake the leaves, mulch the plants that need extra warmth, and of course bring out the warm clothes.
It means that the time I might we outside will be spent inside, but that's a good thing. More time for introspect things, and more time to spend on increasing the value of what we offer.
Plus, of course – more writing time!
How will you spend these next two introspective months? I would love to know!
Here's the November Reality Shift. Whether it is your "birth" month or not, I am sure you will find many gems of wisdom buried in this hour talk.

If you would like a copy of this you can download it for just $3.00