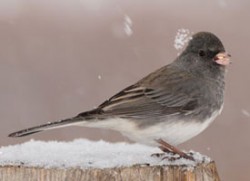 As the Juncos return to our feeders and snow falls outside, a fire warms our house, and the winter (aka Christmas) lights brighten the night, I am reminded once again of the gloriousness of Life.
It's all here for us to notice, and appreciate.
However, it's so easy to fall into the emotional holes during this time of the year. They can catch us unawares and instead of noticing the beauty of Life, we can get caught up in what does not appear to be working.
If that happens to you, it is the perfect time to come visit Perception U. It's open all day and night.
You can read tales of gratitude in the Forum, or listen to Grace Notes that can help lift you out of any misstep.
Try out the meditation audio clips Del has done for you, or watch a beautiful video in the Sharing Ideas part of the library.
Need someone to talk too – visit the Forum and let us know how we can help.
Perception U is also a great place to visit when you feeling the Love. Share it! Put a foundation under it so you will notice those traps and holes and avoid them in the future.
Don't forget to sign up for the free daily and weekly email courses, and The Shift Ezine! (The sign up links are on the side of this page.)
Join us this month in the Forum of Giving & Receiving Gifts. In this forum we are sharing what we have found, thought about, discovered, seen, heard, or love, the list is endless. These gifts are free to give, and priceless to receive!
And of course here is your December Reality Shift! I know you will enjoy it!
(
If you would like a copy of this and other months you can get them here.
)
Have a fabulous month! Hope to hear from you ..
With Love,