[tfg_social_share]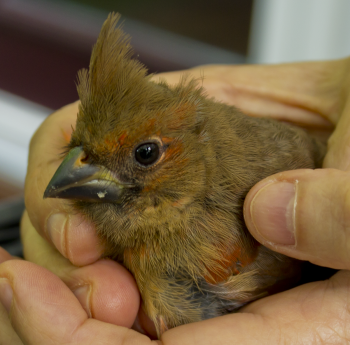 I heard the thump.
I was sitting in my favorite reading chair proofing (once again) The 28 Days To Wealth book that will make its updated appearance this month.
I knew it was a bird hitting the window, but figured that like most of the birds this happens to it had flown away. However, a few minutes later Del came upstairs with a little fluff of feathers in his hands and said something like, "This little girl needs your help."
He was holding a baby girl cardinal. She had hit his window probably flying fast to get away from the hawk and stunned herself.
He put her into my hands and she and I went outside onto my office deck so she could feel the air.
She was blinking and alert, but very calm. I had the privilege of petting her – so soft – and talking to her about her Life and the things she would experience.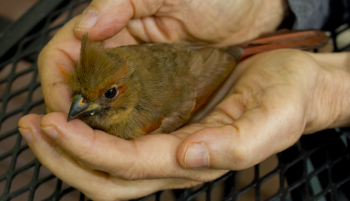 She snuggled down into my hands and I could feel her little heart beating. One of her eyes had a tiny red feather above it, looking as if she was growing a pair of false eyelashes. Close up it was easy to see the many colors of thousands of tiny feathers that covered her body.
She heard other cardinals calling and turned her head to listen so I knew she was becoming even more alert.
We sat for a few minutes together watching and listening, and when Del came to check on us with a box and a towel, she flew away into the bushes.
All is well.
Daily life is sometimes like that. We thump into something we didn't expect and it can momentarily stun us.
But just as Del and I held that bird, each our lives is held within the hands of the Divine, which softly speaks to each of us reminding us what our Life is about and the joy we will experience.
Just listen – you will hear Love speaking directly to you as well!
With Love,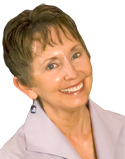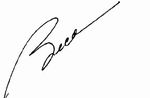 PS
In the Seneca tradition, June is the month of faith, and of speaking the Truth. If you would like to know more about this month's traditions, animals, and other symbols – listen below.

You can download this talk for $3.00 by
Clicking Here