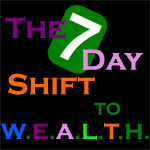 Thoughts on freedom ..
Live Free
I have been pondering the idea behind the statement "And ye shall know the truth and the truth shall make you free." (John 8:32 Bible)
Sounds good, but how does that apply to us?
I realized that the only way the truth could make as free would be if we were already free, if that was our innate state of being. So claiming freedom for ourselves begins with the understanding that we are already free.
Unlimited Resources
Of course freedom comes in many forms, but I am sure we would all agree it includes a life lived without limits, free of worry, stress, time limitations, ill health, and lack of funds.
Freedom would mean a life with unlimited resources, the perfect place to live, safety, protection and of course unlimited opportunity.
This isn't a pipe dream; it is the actuality of Life. We don't have to live in the fear that comes with not claiming freedom for ourselves. In fact, if we are afraid of something, it is proof that it doesn't exist.
Why would this be true? Because if the conditions that are causing our fear are bad – which they would be – then they can't be of God, which is omnipresent good.
Bad Is Powerless
Therefore, bad conditions or in lack in any form, are powerless because they are not true.
It's not a matter of changing anything on the outside; first, we have to change our self-identification and then shift what we are thinking.
I have been working on a redesign of our Perception Publishing site, and in the process of doing that decided to put one of our very popular audios into a download and made it into this week's featured product.
That prompted the thoughts about freedom, and I wanted to share it with you.
"The 7 Day Shift To Wealth & Prosperity" could be a great start to your month. It's only $3.00 and you could be listening to it within minutes.
====================
Are you interested in a full study of freedom?
====================
Then The Shift Home Study Course that begins Monday night could be a perfect fit. This course won't be offered again for many moons. So if this is your course, register now.