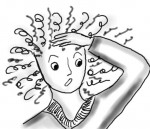 After grocery shopping I stopped to get Del a subway for lunch. I ordered, paid, and left.
Half way home, I glanced at the passenger seat and realized that the sandwich was not riding home with me. Sighing and laughing at the same time, I turned around and headed back to pick it up.
This was the second time it had happened.
It was all about habits, and attention, the Subway girl's and mine. She is in habit of making my sandwich and taking my money, handing me the receipt, but not the sandwich.
In the past at Subway's the checkout person would hand me my receipt with one hand, and the sandwich with the other. Since the new girl leaves the sandwich on the counter instead, I simply take what she has handed me and walk away, because taking what was handed to me was my habit.
That was not the only habit at work.
While waiting for the sandwich I glanced at the clock on the wall and realized it hadn't taken me as long as normal to shop so I was a bit earlier for when I thought we might have lunch.
By the time I had driven away and returned I had eaten up that extra time.
Have you ever noticed this kind of habit? Perhaps you have a bit more money one month, so you spend until you are back in the same place you normally are with how much money you have, even if that means it is in the not-enough category.
I call this kind of habit, the inertia habit. Without really paying attention, everything returns to the way it was before, even if it wasn't good.
We have all heard that it takes 27 days to break a habit, and then it will be gone forever. This isn't true.