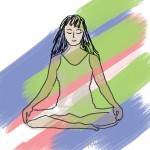 When the weather turns colder, we move two bird feeders from way out on the deck, to the covered porch, and the other to right outside my glass office door.
Then we wait.
It doesn't take long.
First, the chickadees find it and then the woodpeckers and within a very short time, we have a multitude of responses to what we have done. It is rewarding in so many ways. We can see the result of our choice, and we receive pleasure from the response.
Receiving responses seems so much harder in the "human" world.