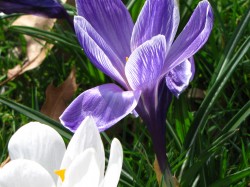 Give up to grace. The ocean takes care of each wave til it gets to shore. – Rumi.
We are experiencing the glorious and unexpected gift of an early spring.
Instead of the normal 47-degree weather for this time of year, we are reveling in 70-degree plus days. This gift is projected to extend into the next few weeks.
To welcome the gift, our doors and windows are wide open to the sounds and scents of spring.
We are serenaded by the ongoing call of the robins, the pretty-pretty chirp of the cardinals and by the chimes that have followed us from home to home. With open windows and doors, we can catch the scent of far off rain, and newly blooming hyacinths.
Everything is growing and blooming weeks sooner than normal, from the daffodils to bluebells with tulips not far behind. Birds are trilling, buds are swelling, and it's easy to forget about what work needs to be done behind the computer when greeted with a completely unexpected sunny day.
It's a gift, like Grace.

We did nothing to earn it, it simply is, and all that it asks of us is to become aware of it, accept it, and enjoy it to its fullest.
Sometime in February, we saw a herd of deer romping in the trees and hills behind our house. After a snowfall a few days later, multiple hoof prints covered our entire yard, revealing that they had romped for a while, unnoticed this time.
One afternoon I glanced out of the kitchen window and saw a beautiful red shouldered hawk sitting high in the tree, proud and regal; the ruler of our little patch of forest.
Which makes me wonder how often do deer and hawks visit our home, and we don't see them.
We all know the answer. The deer, the hawk, and literally a million other critters, visit us yet we rarely notice them.
They too are a gift, like Grace. We do nothing to make them appear.
The only requirement is to become aware of the beauty of these creatures and enjoy them as evidence of the immensity and diversity of the infinite.
Pondering this idea of Grace as a gift, I felt the real meaning behind the teaching to not seek earthly rewards, but wait for our rewards in heaven.
Misunderstanding of this teaching sets us up for suffering in a variety of ways, an understanding of it aligns us in Grace.