Del's Suggested Book
For The Month

Price Disclaimer
Beca's Suggested Documentary/Movie For The Month
IRIS You can watch this on Netflix or iTunes. This is a wonderful story about creativity, joy, agelessness, and style. I smiled the whole way through with happiness as I watched Iris live her life as a creative adventure. To be just a tiny bit more like her would be fantastic! Watch it, you'll see!
Join Us In The Forum To Study Wealth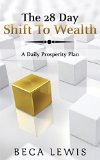 Get this book and meet us here Begins February 1st. Open all month … pop in!
---
What I Am Loving This Month
In the interest of dissolving the illusion of time, being creative, and doing what we love, I purchased this class. I am really loving it! Even if you aren't into yoga and dance you will be inspired by what she does which you can see on Instagram.