[tfg_social_share]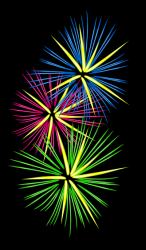 Albert Einstein said, "There are only two ways to live your life. One is as though nothing is a miracle. The other is as though everything is a miracle."
As the year 2012 begins, isn't it a perfect time to make sure that we are living our lives as if everything is a miracle?
And it is of course; not in the sense that miracles break the divine law arbitrarily and if petitioned enough, but because divine law is the Principle of unlimited, underived, unconditional Love.
This is the year of harmony and wholeness, and the year we can choose to live life as the miracle that it is.
Instead of following the wake of material thought, we can rise above it into the atmosphere of clarity and completeness.
We can consciously choose to see the spiritual fact in everything, and be clear, calm witnesses to the Truth that there is no material world to disengage from, but that everything we see is in fact, a spiritual idea held within the divine Mind.
This includes you and me!
Our intent is to bring you tools in all shapes and sizes to support that rising above, and add them here for you to use.
Here's the latest one!
It's a Truth 4 Today in email form, fast, efficient, and thought – provoking. Why not start the New Year with this free series. It will last for 365 days, and is perfect for 2012 awakening to spiritual fact! Sign Up Here
Don't forget this is the month we all set INTENTS, not goals, not resolutions, not to-dos, Intents. If you would like some help in doing this join the Focus Five Intent class. It only happens once a year, and there are only 5 people per class so if you are interested at all – check it out now!
Of course, here is your January Realty Shift, but why not list to the many Reality shifts about all kinds of subjects? Click Here To Listen
Notice The Miraculous!
With Love,