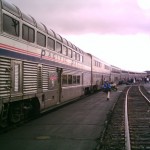 I would like to take you on a train ride, not just any train, a Magical Mystery Train, a journey of perception.
If you will come aboard, prepare to step off the train with an altered state of mind and point of view. What's delightful about this train is that all you have to do is ride with an open heart and mind.
Many years ago, a group of Shift members went on a real train ride together. We studied, laughed, played, and shifted our perception to a higher understanding of Truth and when we got off, everything seemed different, better than before.
When we got on that train, we didn't need to know anything at all about how the train worked, or how it was going to get to the destination. We just knew if we boarded the train in Los Angeles, we could get off in Portland, Oregon.
Same idea for this Perception Shifting Train ride, you don't have to know how this perception shift will occur, or even agree with the perceptions that I will share, all you have to do is board the train, and be willing to experience a shift of perception.
On board? Here we go! … Read On Here