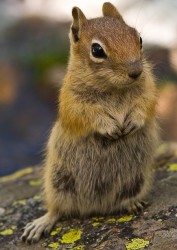 One day we discovered a hole in the plastic lid on the peanut can that was in the cupboard. We knew what it was. It was our resident chipmunk.
We were right, and we were wrong.
Here's the story.
Living in semi country, we always host chipmunks. They run in and out of our garage, they stand on their hind legs and watch Del chop wood, and laugh at me from behind bushes while I am working in the garden.
Someone with chipmunks probably made the movie "Holes" because sometimes my garden looks just like that. This is different from moles and shrew holes. They are secretive within their holes. Chipmunks are playful and love to see the results of their labor, so are more often scampering around on the surface.
However, when we discovered that at night that our chipmunk was coming into the kitchen and raiding the cupboards and drawers, we knew it was time for a relocation of said chipmunk.
We purchased a live trap and put it out into the kitchen at night with peanuts inside, but didn't set it because we wanted the chipmunk to be familiar with it first.
That was a mistake. Click Here To Continue Reading